Now that it's October, it is finally settling in that fall is here and many seasonal holidays are coming. But with fall comes cooler winds and the flu season. Since the widely spread of COVID-19 this year, experts highly stress the importance of getting vaccinated for the flu this season. COVID-19 and the flu are both respiratory illnesses, so as UCSF stated in why you need to get your flu shot this year, there is an "increase…risk of catching both diseases at once." With COVID-19 still around, what you don't need is your body weakened by another illness so you can easily catch this deadly disease. You want your body at it's best health and your immune system strong. There are more ways to also help your body fight back against viruses. One way is to give your immune system a boost. It may seem little, but that boost is what you might need for this year. As you might know, a little can come a long way.
On the topic of little things, another seemingly small thing are tea leaves. But these small leaves combined can give that essential boost to your body's immune system. Just as GAIAM wrote in one of their articles, "Even if the effect is minimal, you can't go wrong, since both [green tea and chamomile tea] are loaded with powerful antioxidants unique to each tea." Annals of Family Medicine and many other credible sources have found tea to have antimicrobial properties. In a study, the Annals of Family Medicine have proven that tea was linked with lowering the likelihood of MRSA nasal carriage. If you didn't know, MRSA is a type of bacterium that is difficult to treat compared to other strains because it is resistant to some commonly used antibiotics. They concluded that this study has brought the possibility of a "promising new method to decrease MRSA nasal carriage that is safe, inexpensive, and easily accessible." That is agreeable, tea is easily made and consumed, affordable, and found in almost everyone's cabinets. If tea can help fight off such a strong bacterium, what is stopping you from drinking more tea?
Let us make things simple for you and list the top herbal teas that will help your immune system. Healthline has created a list of 10 Healthy Herbal Teas You Should Try. These teas include chamomile, peppermint, ginger, hibiscus, and lemon balm. And guess what? You can find these ingredients right here at Vorda! Don't wait and start getting your body ready for the cold to come.
Our Serenitea contains chamomile, rose petals, and white peony. Chamomile is known for relaxing the body to promote good sleep. With good sleep comes a well-rested body and great health. But chamomile isn't the only one known for it's health benefits, but rose is also increasingly popular these days. Rose contains antioxidants, anti-inflammatory properties, and many other benefits.
2. Peppermint & Lemon Balm
One of our teas fit for the festive season is Snow Peak. It contains peppermint, lemongrass, lemon balm, rose petals, licorice, and stevia leaves. Each one of these ingredients have numerous health benefits. And this tea has 2 of the top herbs for your health recommended by Healthline, peppermint and lemon balm. Tea does not always have to be enjoyed bitter or with the usual tea leaf flavors. Be in some festive spirit with peppermint and licorice. Drinking this warm will give you that warm cabin in a snowy mountain peak feel. But this tea is also delicious over ice as a nice refreshment.
Vorda's Zesty Ginger is fully loaded with health benefits. The ingredients, ginger and lemongrass, are widely known and used in the Eastern countries for it's beneficial properties for the human body. This is not one of those calming teas, because this one packs a punch. Ginger can help strengthen your immunity as well as reduce stress. This tea is best served after meals to soothe your body.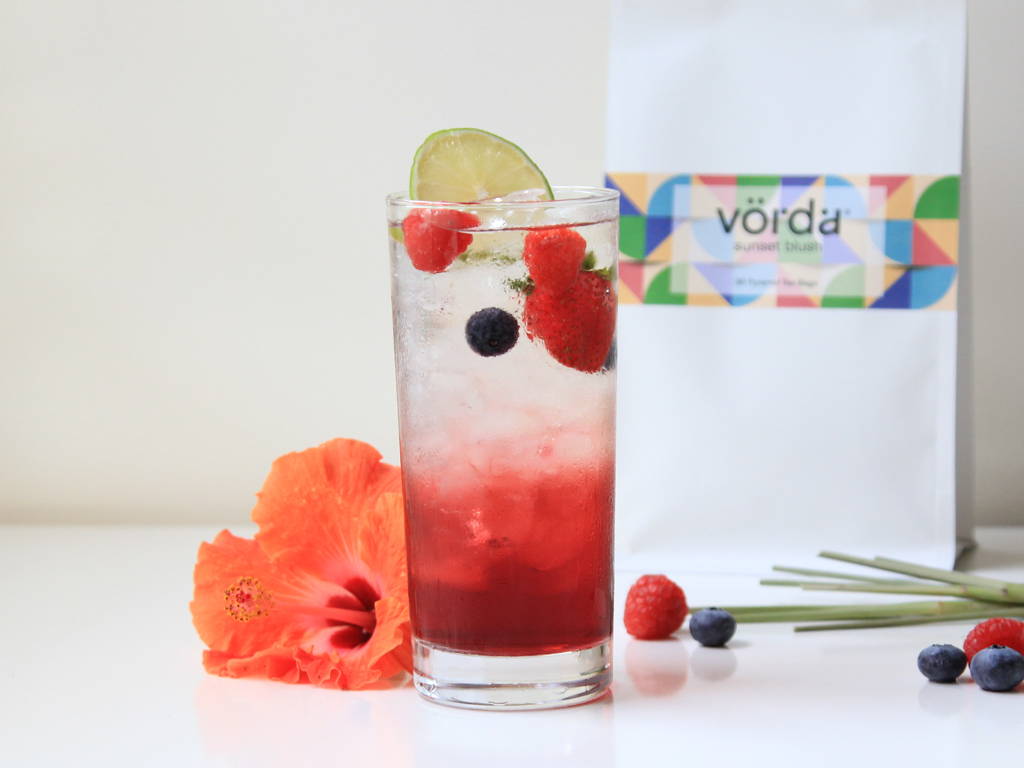 Now Sunset Blush might not seem very appropriate for this upcoming season, but don't let that stop you. This blend has a mixture of beautiful flavors as well as beneficial ones. Included in this blend are hibiscus, apple, stevia leaves, rosehip, strawberry, raspberry, and lemongrass. This hot or iced tea will help you rejuvenate and energize. If you don't feel like festive or calm flavors, this floral and fruity blend might be the one for you.
Now that you've made it to the end and understand the importance of having a strong immune system, get drinking! As mentioned earlier, tea is easily accessible, anyone can make it, and it is very affordable. Don't wait and start getting your body ready for the cold to come.